Turbulence Training, Craig Ballantyne, CSCS, MS
4-Week Bodyweight Program for Beginners, Intermediate & Advanced Fitness Levels
Sculpt your body without the need for any fancy equipment or even a set of dumbbells. This 4-week program contains beginner, intermediate, and advanced levels so that no matter what your fitness level, you can get a complete Turbulence Training workout anytime, anyplace. Take this one when you travel for work or holidays, and you won't come home with any extra "baggage."
Download Your FREE Bodyweight Workout now!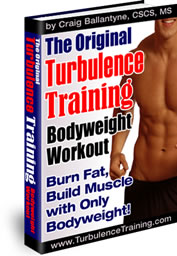 Related Sites
**Note: Information in this website is not intended to diagnose or cure any injury or illness or replace a program designed by a fitness professional.
Copyright, Your Fitness University 2008-2013. All Rights Reserved.